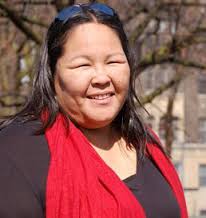 Generous Inuit throat singer, Nina Segalowitz, offers Montrealers an unforgettable experience: the joy of playing – using only their breath, voice and heart – and turning a roomful of strangers into a strange living creature that sounds like a… saw!
The workshop on February 27 took place at the Canadian Guild of Crafts, which celebrates its 110th anniversary this year.  It was part of a celebration of Inuit and First Nations cultures, under the theme nipi, a term in the Inuktitut language that describes a sound – in nature, music, the human voice, and noise. Métis spoken-word artist, singer and poet, Moe Clark, throat singer Nina Segalowitz and DJ Rhythm & Hues wove together an evening of music, poetry, throat singing and supernatural stories "to build bridges between the different cultures and to reach out to the audience (… while) paying tribute to their respective cultures."
Video clip by Melishia Frederick-Goyette, Montréal, 2016
Nina Segalowitz, who embodies many cultures herself, quietly shared with participants how she learned throat singing as a young adult, after being cut off from her Inuit culture as a young child. Born Anne-Marie Thrasher in Fort Smith, Northwest Territories, she was taken from her parents as an infant after they brought her to a hospital for treatment. Hospital staff had them sign papers that they thought were authorizing their baby's treatment. (Both had been through the residential school system, but weren't that well versed in English.) When they came back the next day to pick up their daughter, she was gone. She had been put up for adoption and adopted by a couple in Montréal. Her adopted father was Jewish and her adopted mother, Filipina. They didn't know she'd been stolen. She was one of thousands of indigenous children in Canada forcibly taken from their parents in the 1960s and '70s. *
It is a tribute to her courage that she agreed to share her own story with strangers and offer insight into what happens when traditional practices and values are not respected. It is a tribute to her strength and positive spirit that she introduced participants of various backgrounds to throat singing, which is traditionally practised only by Inuit women. ** And did I mention Nina was funny? The winner of the game of throat singing is the one who laughs last.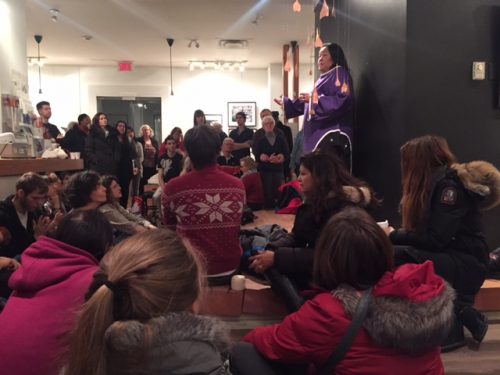 * See the article by Ainslie MacLellan, "Sixties Scoop still not well-recognized, aboriginal adoptees say," March 16, 2016. http://www.cbc.ca/news/canada/montreal/real-talk-on-race-sixties-scoop-not-recognized-1.349434
** For the real deal, see Nina Segalowitz and Taqralik Partridge in this 2014 performance, "Inuit throat singing (katajjaq)/Le chant de gorge Inuit" https://www.youtube.com/watch?v=GqwekCKvsuo