Truth be told, I've been neglecting my boudoir. J'ai négligé mon boudoir. Some of you might think that négligé and boudoir go hand-in-hand (or tongue-in-cheek, even), but I want to warn you that it's risky, if not risqué, to let your boudoir languish in neglect.  Mine felt so délaissé that it slipped out the back door while I was endlessly and ponderously weighing words… and took a dip in the cool dark waters of my back alley.
Refreshed and energized, my sleek new boudoir headed up Park Avenue (just north of Boulevard St-Joseph) for a little action. I know, because my secret source at the Québec Provincial Police leaked the photos from a hidden camera.
All that pink was a little too much, and after heading east on St-Joseph, my boudoir took refuge on Jeanne Mance, only to be tantalized by a lippy message smack in the middle of the sidewalk: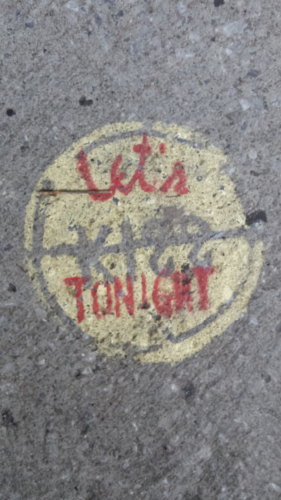 Pursing its lips, my boudoir strolled down to Boulevard Mont-Royal, minding its own business, when the furry scent of danger came wafting across from Parc Jeanne-Mance. Who knew there'd be so many alley cats on the prowl?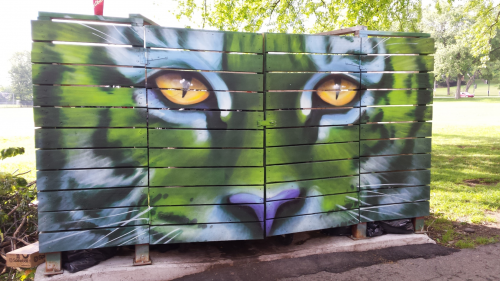 Fur and feathers flying, my boudoir turned tail and headed east on Boulevard Mont-Royal.  But before it reached St-Denis, even stranger wild beasts began beckoning from the alley.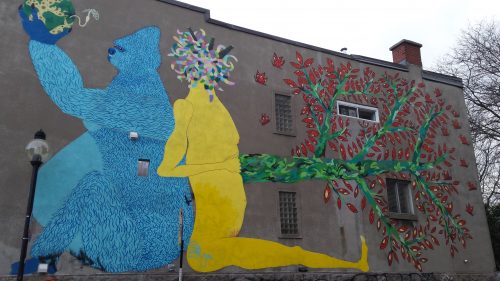 After hanging out with the beasties on the horizontal tree, my budding boudoir was drawn southward and ended up on Marie-Anne wondering where to go next. The wise words of the elders came out of nowhere. "Stay calm. Be brave. Wait for the signs."[1]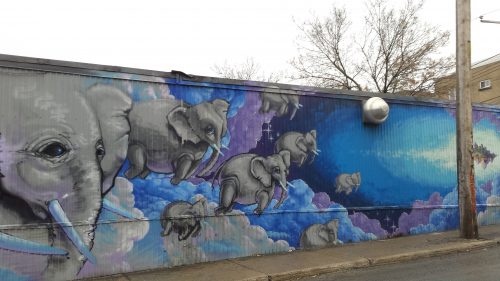 Well, Gracie Heavyhand was in on it now, and my emboldened boudoir blazed a trail west toward Boulevard St-Laurent, into more fertile (seedier?) territory.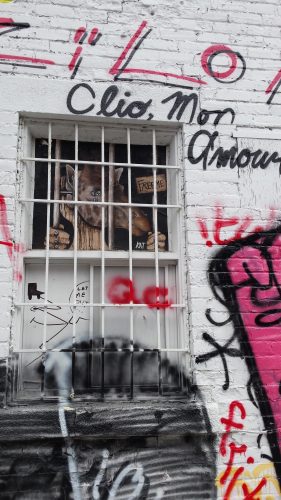 Gracie was regaling my boudoir with true confessions from the Dead Dog Café, but when she started on about her escapades with food, my undernourished boudoir got a terrible hankering to go home.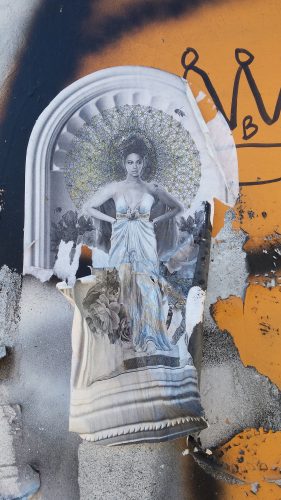 I'm all for bananas, not so much for bowing and scraping. But if you've gotta bow down to someone, let it be Gracie Heavyhand or Beyonce, I say.
Now that my boudoir's back, I'll never take it for granted again. This winter, we're going be cookin' with Gracie in a strange-looking tent near the Quartier des spectacles. Gracie's gonna be humming "Midnight at the Oasis" while she fries up something nice and greasy. My boudoir's going to get full and plump. Just the way it should be.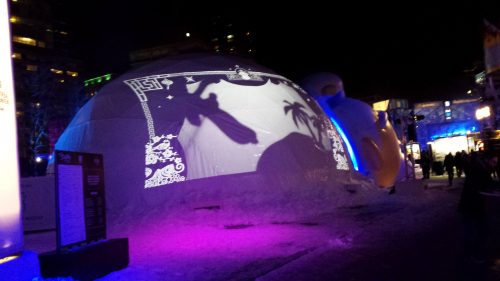 Oh yeah, one last thing. Maybe you'd like to see the "before" photo… what my neglected boudoir scene looked like before I wised up. Boudoir blues.
All photos by Jody Freeman's secret boudoir informant
[1] Dead Dog Café Comedy Hour, written by Tom King.
http://www.cbc.ca/radio/rewind/dead-dog-cafe-comedy-hour-1.2801276