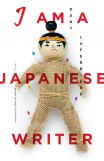 I am a Japanese Writer. By Dany Laferrière. Translation by David Homel. Douglas & McIntyre, 2010.

I am a Japanese Writer is a novel about a writer who is neither Japanese nor speaks Japanese, but is actually Black and hails from a sun-drenched  country full of turmoil. Dany Laferrière, its author, in fact comes from Haiti and is best known for How to Make Love to a Negro Without Getting Tired, a novel that was turned into a movie and translated into English. It has been said of this novel that it is funny, honest, critical, witty, deep and daring. I have not read it but I can certainly say that these same qualities are very much present in …Japanese Writer but we have to add the word surreal to the mix. Because …Japanese Writer is certainly surreal.
For starters, the main character doesn't have a name, and if he does, it has escaped my notice. His voice is heard in a first-person narrative about a writer who has been paid a considerable retainer to write a novel with that catchy title. The novel never gets written but the title is so catchy that it garners the attention of the Japanese Vice-Consul  who in turn contacts his government back home where the non-novel and its elusive author become an overnight  sensation. In the meantime, the protagonist, who has already spent his retainer in paying long-standing debts, makes the acquaintance of some Japanese girls whom he meets in Café Sarajevo, an artistic watering hole close to Carré St. Louis. Our hero also spends a lot of time trying to avoid his landlord who knocks on the door once a week to collect the rent. He also has to deal with tragedy, comedy and the absurdity of life. We don't quite know what to make of this putative author or the people who court him with food, praise and other unearned gifts but we certainly understand that in many ways this character is the alter-ego of a Dany Laferrière who might have faced a similar life before he became a famous author.
Be it as it may, I am a Japanese Writer, in spite of its fractured story line, or perhaps because of it, is food for serious, very serious thought. By making us laugh and by drawing us into this world of writers and artists and precarious livelihoods, he has made us ponder about the deeper meaning of art and identity and the self. Most importantly, Laferrière has taken us on a journey with Basho, the Edo-period Japanese  Haiku poet who journeyed on foot in winter in search of  a full moon over a frozen landscape.
PS I forgot to comment on the quality of Homel's translation because it reads like an original version!